THE PSYN-POST IS PUBLISHED BY THE EM OF THE PSYWAR DET. 5021 ASU, FORT RILEY, KANSAS. IT IS PRINTED FOR INSTRUCTIONAL PURPOSES ONLY, EDITORIAL CONTENTS DO NOT NECESSARILY REFLECT THOSE OF THE DEPT. OF ARMY. PHOTOS BY DETACHMENT PHOTOGRAPHER, PIO.
STARTING WITH THE STAFF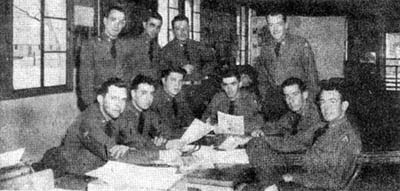 THE PSYN-POST STAFF: Reading from left to right, standing: Pfc Vogel, Pfc Featherman, Pfc Brick, Pfc O'Flaherty; reading from left to right, sitting: Pvt Truhler, Cpl Sadowsky, Pfc Nicely, Cpl Kaplan, Pfc Paul and Pfc Fox.
DEDICATION
This Special Send Home Copy of The Psyn-Post was initiated some three weeks ago, and ever since then, the entire staff of the unit newspaper, a few of whom are pictured above, devoted their time, talents, and energy to it. This issue marks the last time The Psyn-Post will be published for the Detachment; henceforth, it shall become the newspaper used for training by the 6th RB&L.
This issue of the unit newspaper is respectfully dedicated to all the officers and EM who were part of the Detachment, perhaps not from the very beginning, but at least, to the very end.